Jurassic World: Dominion Dominates Fandom Wikis - The Loop
Play Sound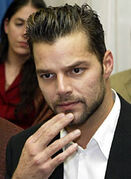 Fernando lives in Spanish Harlem. I visited the room in his apartment he'd posted Craigslist, and it had a nice view of the live poultry market on the street below. The crystal chandeliers in his living room shone on our faces as we talked, and the butchers could see up at us.
When I came in, he was listening to mid-'00s girl pop, and the song repeated once before he turned it off. In his refrigerator were four eggs, two empty tupperwares, a jar of hoisin sauce and a bottle of ketchup. He's a painter, and his whole-body portraits were stacked against a wall to save space. They were life-sized and hyperrealistic, and they leaned uneasily against each other like opera singers forced to share a cab.
I walked around his neighborhood before I'd even decided to call him. The signs are covered with baby blues and oranges. The streets are full of clothing stores with mannequins showing clothes I'd never seen anyone wear, like sweatpants with revealing holes in child sizes and sleeveless blouses with tuxedo collars. A little to the South, where Puerto Ricans aren't as concentrated, there's an "Iglesia Pentecostal Macedonia." Compared to Washington Heights, where everything made much more sense, this was my kind of place. It was just a matter of money and, of course, Fernando.
From the first time I got in touch with him, it was clear that he's extremely difficult to reach by phone. Maybe Spanish Harlem was too much of a strange overstimulation, or maybe he was afraid of his ringtone.